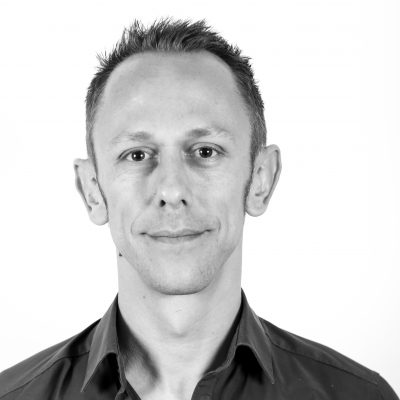 Guillaume SANDOZ
Biology of ion channels
Main interests
Regulation of neuroexcitability
Structure-function studies of ion channels
Subunit organization of ion channels
Channelopathy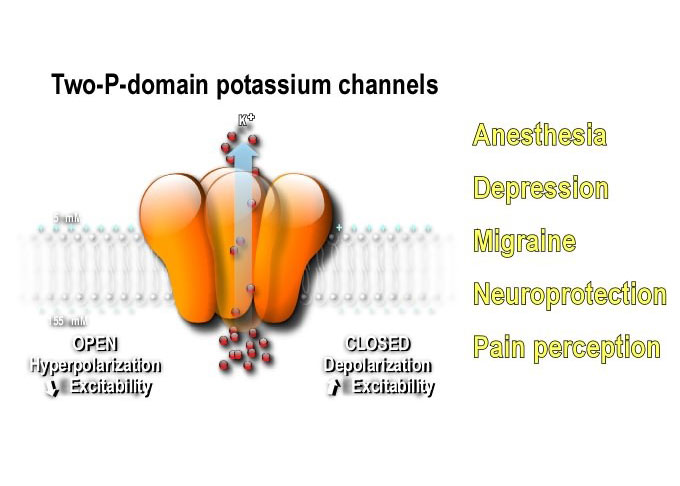 Ion channels generate the electrical signals with which the nervous system senses the world, processes information, creates memories and controls behavior. Dysfunctional ion channels can cause diseases known as channelopathies. They are encoded by approximately 350 genes and represent the second largest drug targets to notably treat diabetes, hypertension, depression, anxiety, neuropathic pain and migraine.
Our recent discoveries in the understanding of their function and regulation are opening new perspectives to treat neurological and psychiatric diseases. In fine, the challenge of the team is to integrate the structural, pharmacological, cellular and neurophysiological data of ion channel biology to promote the discovery of molecules with high therapeutic potential that are more slective and effective, reducing side effects.
Traditional methods for probing ion channel and receptor functions in their native context require pharmacological agents or gene invalidation. However, these methods have their limitations. Many signaling proteins, including K2P channels, do not have selective ligands. Even if selective ligand exists it is hard to obtain a spatiotemporal determined effect. Furthermore, interpreting function from gene invalidation can be restricted, due to overlapping genetic function, genetic compensation and developmental issues. To overcome these limits, we developed 2 strategies.
The first one is TREK1 K2P channel that is controlled by light via a tethered photoisomerizable pore-blocker called MAQ (Figure 6).  MAQ contains a maleimide (M) that tethers the molecule on the channel, a photoisomerizable azobenzene (A) linker and a pore-blocking quaternary ammonium group (Q) (Sandoz et al., 2012). This photoswitchable channel, called TREKlight, behaves like a wild-type channel in visible light or in the dark but a pulse of UV light reversibly closes it (Figure 6). This tool is used in vitro and in vivo allowing to address TREK channel role by controlling the channel function with light in a spatiotemporally defined way without any further manipulation.
The second one is to use photochromatic ligand that permit the specific light control of the activity of the K2Ps, without any genetic manipulation in mammals as well in the fish and worm.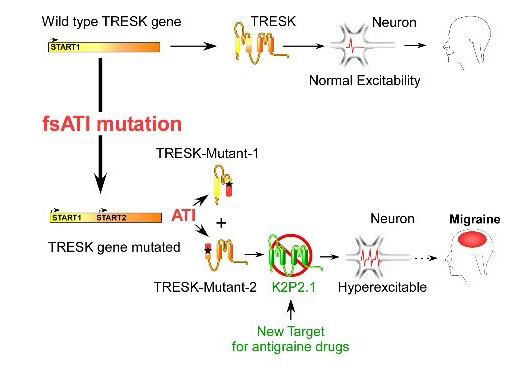 We recently demonstrated that migraine-associated frameshift mutations of TRESK, a two-pore-domain K+ channel, lead to the production of tow second protein fragments instead of one.The second fragment carries the pathophysiological function by inhibiting TREK1 and 2, and its production is due to a mechanism that we called frameshift mutation-induced Alternative Translation Initiation (fsATI). We aim now to determine if TREK agonists can be used to treat migraine.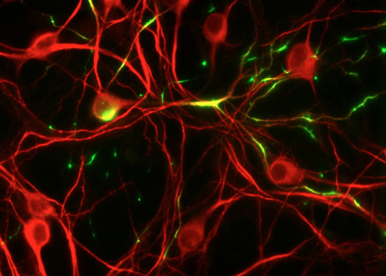 To adress K2P channel functions such as excitability, adaptation, action potential duration, synaptic transmission and plasticity, we are using fresh brain slices in which we remote control the channel activity with light.
Several members of the TREK channel subfamily, and more generally the K2P channel family, show overlapping expression patterns in many brain regions which raises the question: do these channels heteromerize and what are the functions of these heteromers? We are determining potential K2P heteromer formation and function using a combination of SiMPull and PCS
Researchers
CHASSOT Anne-Amandine - +33 489150817

ERIA OLIVEIRA Ana Sofia - +33 R

PreDocs
LANDRA WILLM Arnaud - +33 489150815

BIED Marion - +33 489150816

Engineers & Technicians
WDZIEKONSKI Brigitte - +33 489150815

BESQUENT Maïlys - +33 489150815

2016 - Travel Grant award for SFN - INSCOPIX
2012 - Laboratory of Excellence LABEX awarded
2012 - ATIP-AVENIR award
2009 - Fulbright award
2009 - Philippe Foundation awarded
2007 - Prix Jean-Louis Parrot - French Society for Promotion of Sciences (AFAS)
iBV - Institut de Biologie Valrose
"Sciences Naturelles"

Université Nice Sophia Antipolis
Faculté des Sciences
Parc Valrose
06108 Nice cedex 2