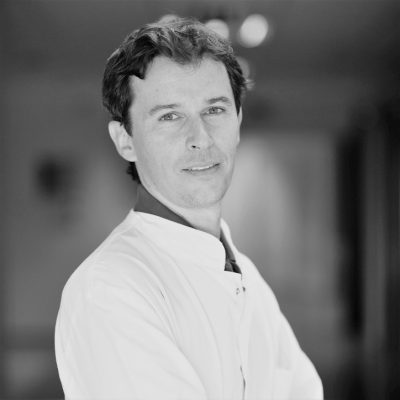 Olivier HUMBERT
PET/CT imaging and Artificial Intelligence for precision Oncology
Main interests
PET/CT imaging
Imaging of tumor response to immunotherapy
Predictive Artificial Intelligence in oncology
Federated Learning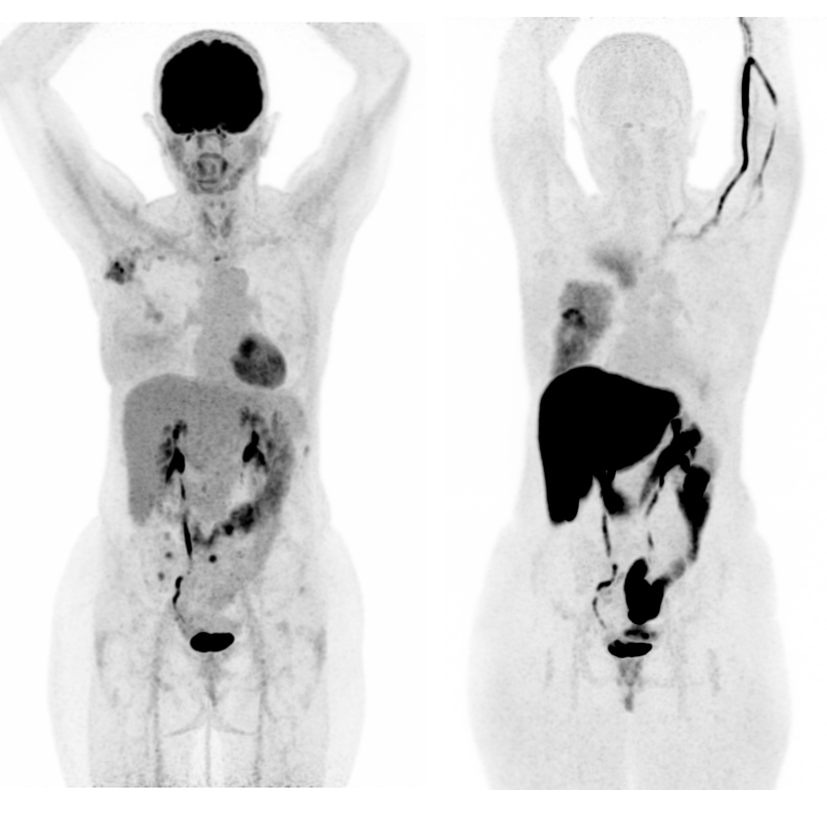 Therapeutic advances have recently improved the outcome of patients with metastatic cancer. In non-small cell lung cancer, immune checkpoint inhibitors (i.e. immunotherapy) are a major therapeutic breakthrough, while the systematic combination of CDK4/6 inhibitors with hormonotherapy is the new standard for patients with metastatic ER+ breast cancer.  However, therapeutic resistance remains a major challenge, and new predictive biomarkers of treatment efficacy are needed to better guide the therapeutic strategy. Monitoring tumor response using clinical imaging, such as CT or FDG-PET, has also become very challenging in the area of immunotherapy due to atypical evolutionary patterns such as pseudo-progression and dissociated response. New response criteria are needed for the follow-up of treated patients.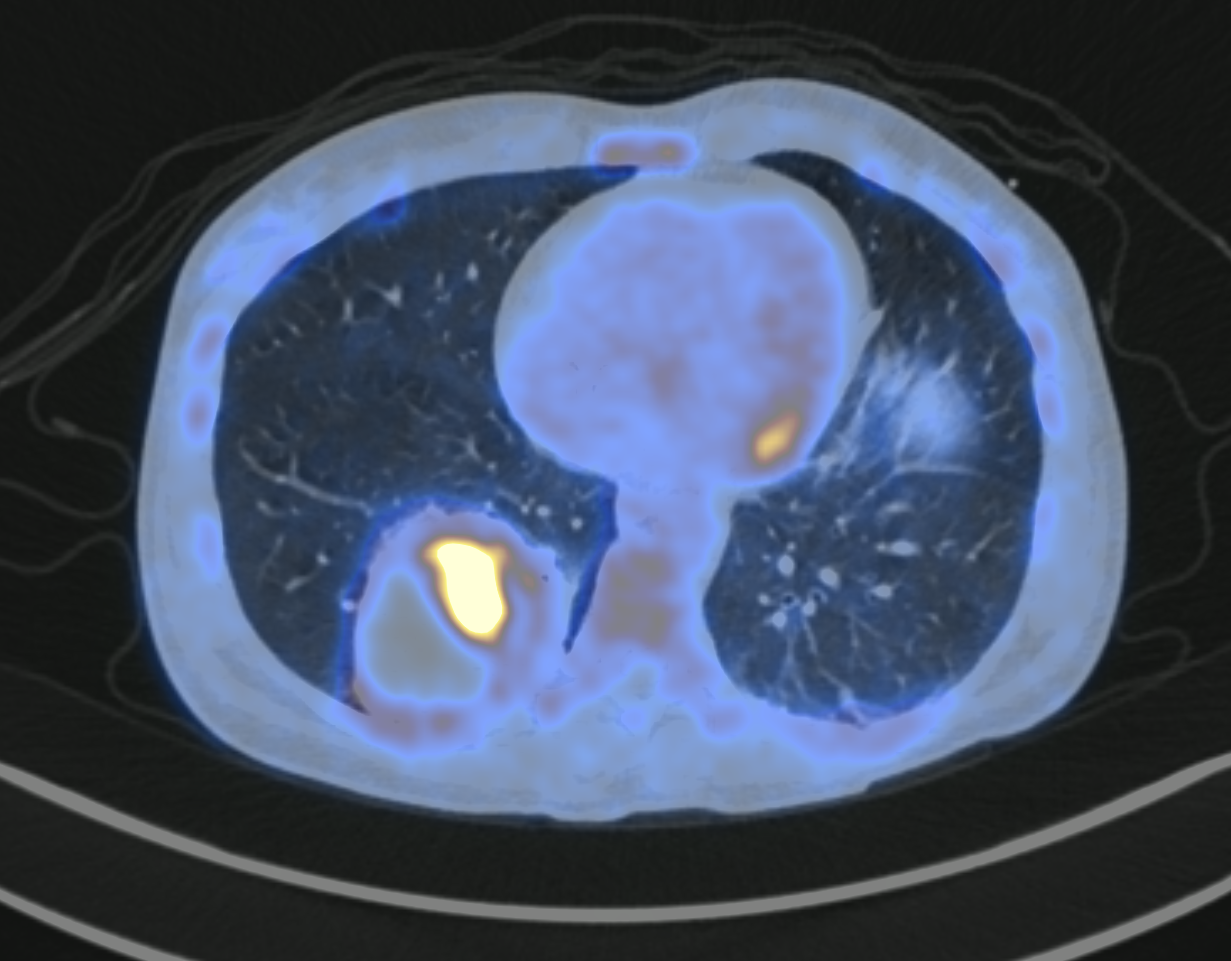 Beyond tumor biology, molecular whole-body imaging, such as 18FDG PET-CT, offers significant potential in terms of non-invasive biomarkers for predicting and monitoring tumor response to treatment. In the metastatic setting, PET/CT enables in vivo analysis of all metastatic lesions in a single patient, taking into account tumor heterogeneity between metastases and the patient's immune background. In addition to the discovery of individual imaging biomarkers, radiomics is a promising approach to better predict a patient's response to a particular treatment. Radiomics involves the extraction of several dozens of quantitative indexes extracted from the medical image and their co-analysis by Machine Learning algorithms. Convolutional Neural Networks (CNNs), based on Deep Learning, are also statistical approaches with impressive performance for tasks linked to computer-aided diagnosis, such as image classification, lesion segmentation or tracking. Deep learning algorithms can identify subtle predictive patterns hidden in medical images. However, to be generalizable, the training of Deep Learning models requires large multicentric medical dataset, which are currently complex to obtain due to the sensitive nature of medical data.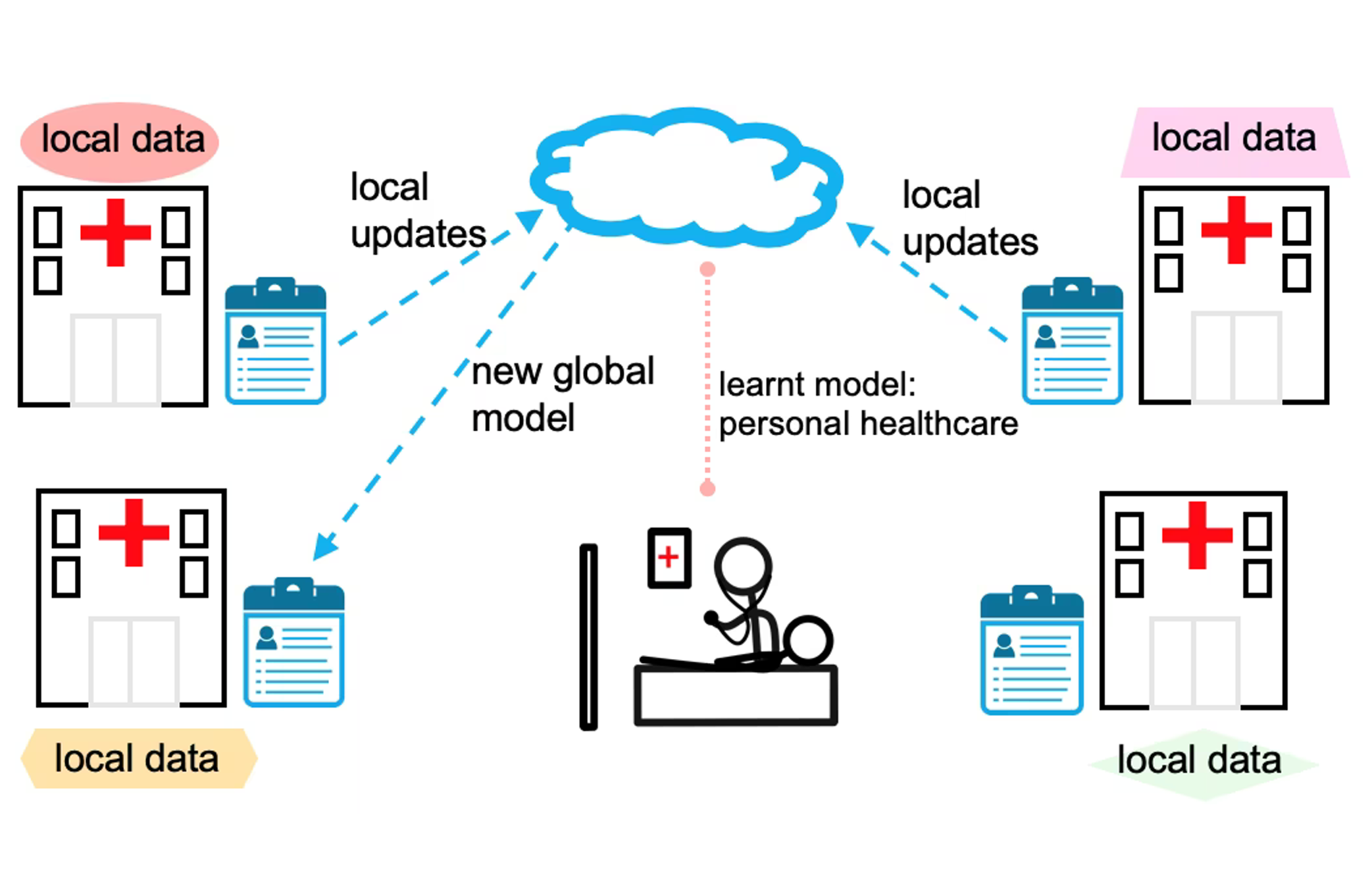 The identification of PET-CT biomarkers predictive of the lung cancer response to immunotherapy and of breast cancer response to hormone therapy. Beyond the discovery of standard imaging biomarkers, the team also aims to exploit the full potential of radiomics and deep learning to maximize the extraction of the prognostic information from PET/CT images. Working closely with research teams in applied mathematics, we aim to offer "AI-based precision oncology" and address the challenge of bringing AI models from the lab to the clinic. Among the main issues for development of AI algorithms is the availability of large, curated and multicentric training medical data, stored in a unique and centralized repository.  To tackle this problem, work is being carried out on so-called federated learning technologies (PRT-K 2022 funding). The FEDERATED-PET project aims at establishing the first French Federated Learning (FL) initiative for the collaborative Deep Learning analysis of 3D PET/CT images and clinical data, leveraging on state-of-the-art FL platforms (FedBio-Med, INRIA) and an important network of hospitals. FL provides will create a unique opportunity to collaboratively learn a shared model across multiple hospitals, solving the crucial problem of medical data sharing and exchange.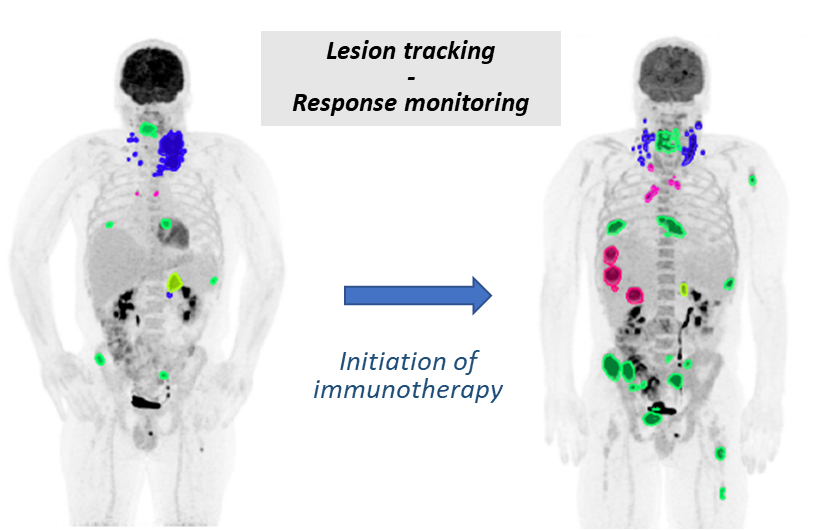 Improving the monitoring of tumor response to immunotherapy using Artificial Intelligence. This project is a collaboration between the Université Côte d'Azur, the Antoine Lacassagne Cancer Center and EuraNova. It aims to develop a deep learning algorithm for the automatic analysis of longitudinal PET/CT images, enabling 1) the automatic detection of multiple metastatic lesions on a single PET scan 2) the temporal tracking of these lesions between two consecutive PET scans. This innovative tool will 1) help physicians to analyze and classify tumor response (saving time / reducing errors) 2) automatically quantify changes in metabolic indices of lesions after the start of treatment, providing a new generation of AI-based tumor response criteria.  Focusing on lung cancer patients treated with immune checkpoint inhibitors, it will enable better discrimination between patients who respond well or poorly to immune checkpoint inhibitors, taking into account atypical evolutive patterns such as pseudo-progression. The clinical benefit will be to optimize the therapeutic strategy for a more personalized medicine.
Researchers
CHARDIN David - +33 R

Clinical Researchers
HUMBERT Olivier - +33 R

PreDocs
SCHMUTZ Hugo - +33 R

COMTE Victor - +33 R

2011 - Award-winner at the Faculty of Medicine, Dijon, France (Prix de these).
iBV - Institut de Biologie Valrose
"Tour Pasteur"
Université Nice Sophia Antipolis
Faculté de médecine
28 Avenue de Valombrose
06189 Nice cedex 2