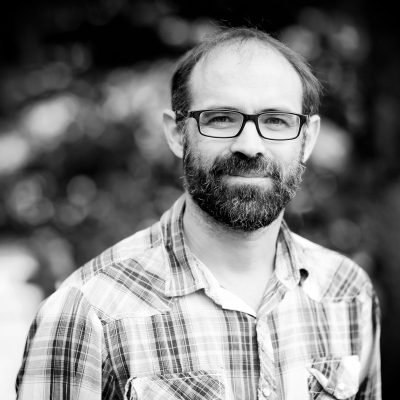 Arnaud HUBSTENBERGER
Epitranscriptomics
Main interests
RNA condensates, phase separations, phase transitions, and the multiscale structure of the transcriptome

From single genes to the expression of coherent networks: how RNA supramolecular co-assemblies allow RNAs to coordinately fine tune gene expression

Robustness, noise and plasticity of RNA networks and regulons: The synchronization of RNA expression to development, and its adaptation to environmental changes

Epitranscriptomics: how RNPs are marked by cellular history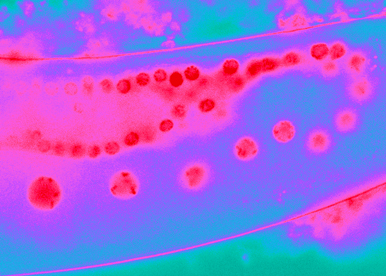 Gene networks must be synchronized to development, adapted to the environment, and marked by cell lineage and past history.
The genome can be compared to a dictionary of thousands of individual genes that can be transcribed into RNA, vehicle of the genetic information. In the same manner that words need to be pronounced at the right time in the right place to generate sentences that carry a coherent message, RNA molecules must be coordinately expressed. The molecular grammar that organize RNA within cells remain poorly understood. As a part of this process, RNAs are covered by proteins that will regulate RNA storage, decay, expression, repression, and localization. Multiple RNAs can further co-assemble into condensates. In this context, we focus on the posttranscriptional control of gene expression:
1-What is the multiscale and multiphase organization of the transcriptome?
2-How does it coordinate RNA expression during development?
3-Adapt it to the environment, stress and aging?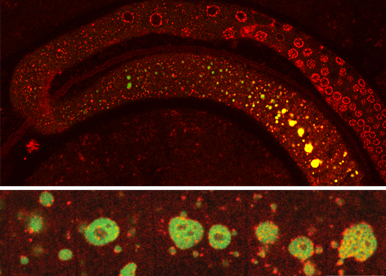 We do not consider RNA as isolated single molecules that belong to an homogeneous soluble phase within the cytosol. Soluble RNA can diffuse, condense into liquid droplets or viscoelastic hydrogels, or even freeze into disorganized glass like aggregates or quasi-crystalline solids. We and others have introduced phase transition as a means to study RNA organization, regulation, and function.
Our hypothesis is that RNA condensates structure and mark the RNA information. The resulting organization is regulated by developmental cues, environmental cues, and cellular history: phase separation participates in the collective control of RNA expression.
Our strategy is to model how phase separations structure the cytosolic transcriptome, and test its functionality in coordinating RNA expression. As models, we use C elegans germline development and human cells in culture.
(1) To study the structural principles of RNA supramolecular organization, a FAPS method to purify diverse RNA condensates, and separate various RNA phases, is coupled to transcriptomics and proteomics.
(2) To model the transcriptome 3D organization and structural fluidity we map RNA-RNA inter and intra molecular interactions, adapting high throughput sequencing methods.
(3) To integrate single molecule behavior to global RNA regulation through phase separation, we develop new imaging assay for RNA localization and translation as well as methods to probe the material emerging properties of RNA condensates.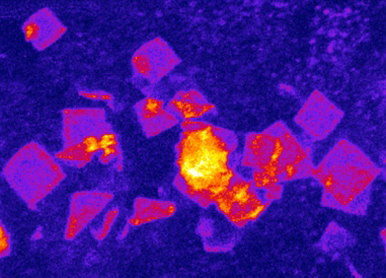 MAPING THE DIVERSITY AND MODELING THE STRUCTURE OF RNP CONDENSATES
To model the multiphase and multiscale organization of the transcriptome in the cytosol, we will further develop new high-throughput approaches that (1) identify RNAs and proteins enriched in diverse RNP condensates, (2) map short/long range RNA-RNA and RNA-protein interactions, and (3) distinguish the soluble/condensed, liquid/solid, structured/disorganized states of RNAs.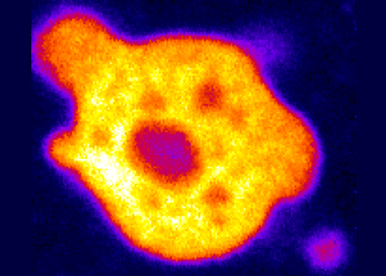 TESTING THE FUNCTION OF RNP CONDENSATES IN CORDINATING RNA REGULONS
At steady state, during developmental switches, and in response to the environment, we will test how RNP condensates and phase transitions sort, buffer, tune and coordinate RNA regulons. For that purpose, we will genetically manipulate condensates and combine single molecule imaging with transcriptomic approaches.
PreDocs
CARDONA ECHEVERRY Andrés - +33 489150866

BAHRI Alia - +33 489150866

Engineers & Technicians
VALéRO Florian - +33 89150866

BEN-MOUKTAR Cécilia - +33 489150866

Students
ROUQUET Sami - +33 489150866

OUERTANI Sarah - +33 489150865

Funded postdoctoral position In transcriptomic and/or quantitative image analysis
RNP phase transitions and the control of RNA expression During development and in response to the environment
A funded postdoctoral position is available in the Hubstenberger team at the Institute of Biology Valrose, Nice-France. Our team was founded in 2017 as part of the main fundamental research body in France, the CNRS (National Center for Scientific Research).
During development, the gene expression network must be coordinated, adapted to a changing environment, and marked by cell lineage and past history.
Our primary goal is to understand how RNP phase transitions integrate developmental and environmental cues to control RNA fate.
Background. We and others have previously shown how ribonucleoproteins (RNPs) can exist under different states: soluble, liquid droplets, hydrogels, or solid pathological aggregates. Within cells, RNPs undergo phase transitions between these states in response to environmental and developmental cues. More recently we developed a method to purify endogenous RNP granules. This method has allowed us to uncover new conceptual frameworks for studying the multi-scale structure of RNP co-assemblies and their function in RNA fate coordination (Currently under review in Cell).
Approach. We utilize single molecule imaging, transcriptomics, system biology analysis, and synthetic biology to manipulate RNPs within the cell. We are focused on developing a broad range of approaches to dissect and integrate how RNP phase transitions coordinate the fate of thousands of RNAs. Models in the laboratory include C elegans and cell lines in culture.
Required expertise and skills. Experience with transcriptomics and/or quantitative image analysis would be useful, however diverse projects can be developed.
Keywords. RNP phase transitions, RNP granules, transcriptomics, live imaging, RNA fate
Relevant publications:
1- Hubstenberger, A., Noble, S.L., Cameron, C., and Evans, T.C. (2013). Translation Repressors, an RNA Helicase, and Developmental Cues Control RNP Phase Transitions during Early Development. Dev Cell 27, 161-173.
2- Hubstenberger, A.*, Cameron, C., Noble, S.L., Keenan S., and Evans, T.C (2015). Modifiers of solid RNP granules control normal RNP
dynamics and mRNA activity in early development. J Cell Biol 211(3), 703–16.
For more information, please send a CV and statement of research interests to: Arnaud Hubstenberger at Arnaud.HUBSTENBERGER@unice.fr
2017-19 - Young team leader starting grant, ATIP-AVENIR (CNRS-INSERM)
2018 - Award of the Academy of sciences (Académie des sciences, Institut de france), "Les Grandes Avancées Françaises en Biologie"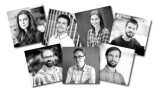 iBV is a member of Université Cote d'Azur (UCA), a cluster of Research and Higher Education on the French Riviera. Each ...
Read More
iBV - Institut de Biologie Valrose
"Sciences Naturelles"

Université Nice Sophia Antipolis
Faculté des Sciences
Parc Valrose
06108 Nice cedex 2