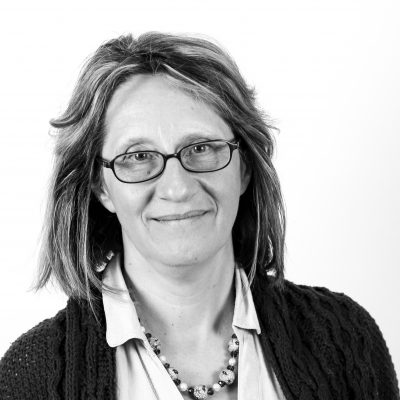 Michèle STUDER
Development and Function of Brain Circuits
Main interests
COUP-TFI/NR2F1 in neurodevelopmental cortical disorders
Transcriptional regulation and activity-dependent mechanisms during mammalian circuit formation
Mechanisms controlling topographic neuronal connectivity
Mapping neuronal populations involved in sensorimotor auditory circuits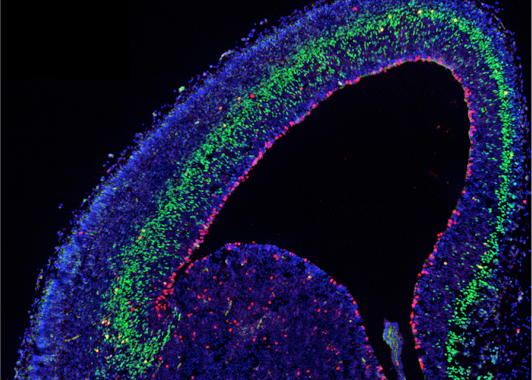 During neurogenesis, different progenitor and neuronal cell types are sequentially generated from a complex population of multipotent stem cells following a precise spatial and temporal pattern before being assembled into maps and circuits. We aim to dissect the cellular and molecular mechanisms by which these different cell types are regulated by defined regionalized and coordinated intrinsic programs and by extrinsic activity-dependent cues that continuously interact during pre- and postnatal development, and control neuronal traits and topographic map formation.
We work on two major regions of the mouse brain: the forebrain and the hindbrain. In the forebrain, we focus on the transcriptional regulator COUP-TFI/NR2F1 recently identified as a neurodevelopmental disease gene and playing multiple roles during neocortical and hippocampal development.  In the hindbrain, we aim to identify the different subpopulations arising from rhombomere 4 and contributing to the assembly of the central auditory, trigeminal and vestibular systems.
Fig. 1 – Embryonic mouse cortex labeled with cell-type specific antibodie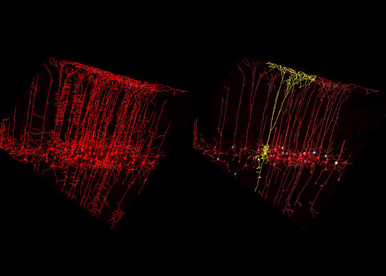 To unravel some of the key molecular and cellular mechanisms underlying neural organization and circuit formation, we use the mouse as an in vivo experimental model and several genetic mutants, which reproduce the clinical features of patients with either intellectual disabilities or hearing sensory impairments. Our strategy is to study the specification of progenitor and neuronal cell types as well as the assembly of neuronal circuits required in shaping distinct functional topographic maps in the healthy and diseased brain.
The team has added to the standard molecular and cellular approaches a whole series of interdisciplinary experimental techniques. We combine genetic gain-and-loss of function approaches, in utero electroporation, 3D imaging of axonal tracts, lineage tracing, in-depth morphological analysis, mouse behavior and high-throughput molecular screening to elucidate how cell specification, migration and connectivity are functionally coordinated and ensure proper assembly of subcircuits in the developing brain. We also aim to develop cerebral 3D organoids as an in vitro model of human development and disease with the overall goal to assess mutations identified in patients.
As developmental abnormalities participate in the etiology of several neuropsychiatric disorders, understanding how different brain populations become organized and connected is essential to advance our comprehension of cognitive human diseases.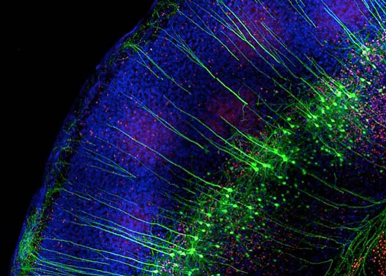 Neurodevelopmental diseases arise from anomalies occurring during the embryonic or fetal age and impairing normal brain functioning. Haploinsufficiency of the orphan nuclear receptor COUP-TFI/NR2F1 leads to developmental delay, intellectual disability, autistic behavior, infantile epilepsy and optic atrophy.  We are using different mouse models, in utero electroporation and in vitro approaches to understand the contribution of single mutations identified in patients in the pathophysiological mechanisms of this newly genetic rare disease.
Fig. 3 – Electroporated mouse brain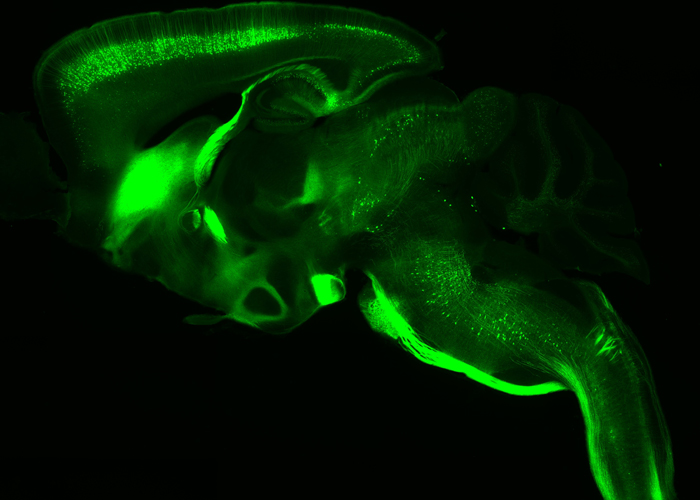 Transcriptional regulation and activity-dependent mechanisms are essential in the maturation of neurons and formation of complex neuronal networks. We are interested in understanding their contribution in the topographic connectivity between the cortex and their subcerebral targets. We focus on the molecular cascade required in driving layer V projection neurons into corticopontine or corticospinal motor neurons, and in remodeling layer IV neurons during the formation of primary somatosensory maps.
Fig. 4 – Thy1-eYFP-H transgenic line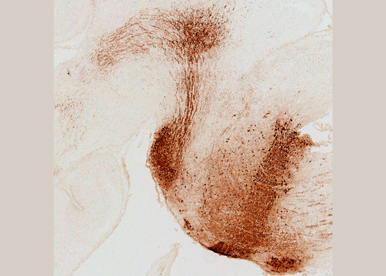 Through functional and intersectional mouse genetics, we aim to map auditory pathways and networks in normal and pathological hearing conditions as well as to identify novel genes involved in the specification of auditory subtypes in the central nervous system. In particular, we will investigate how cells originating from distinct subdomains of rhombomere 4 (r4) contribute in shaping coordinated functional sensorimotor auditory subcircuits.
Fig. 5 - Rhombomere 4 fate map
Researchers
DESCHAUX Olivier - +33 492076147

Postdocs
BERTACCHI Michele - +33 492076420

DI BONITO Maria - +33 492076420

PreDocs
FELSKE Torsten - +33 492076420

SERRA Linda - +33

TOCCO Chiara - +33 492076420

2015 - Equipe labélisée - FRM
2011 - Equipe labélisée - FRM
2009 - Senior Chaire d'Excellence - ANR
1997 - MRC (Medical Research Council) Career Development Award (UK)
1994 - EU Fellowship
1993 - EMBO Fellowship
iBV - Institut de Biologie Valrose
"Centre de Biochimie"
Université Nice Sophia Antipolis
Faculté des Sciences
Parc Valrose
06108 Nice cedex 2