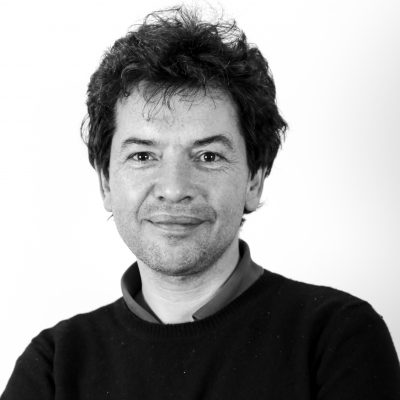 Thomas LAMONERIE
Neurodevelopment : Temporal functions of transcription factors in mouse brain development
Main interests
Mammalian brain development
Developmental and post-developmental functions of transcription factors
Retinal development and diseases
Neurodevelopmental origin of psychiatric diseases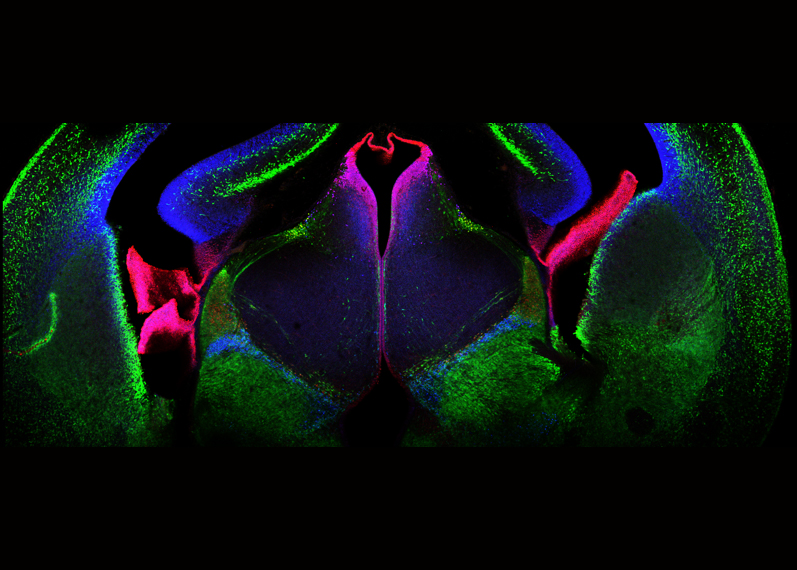 The main goal of this team is the elucidation of mechanisms that govern temporal variations of regulatory gene function throughout development of the mammalian central nervous system. During animal development, a handful of signalling molecules and transcription factors are used for many different purposes. Among these molecules, homeodomain proteins are particularly important from the first steps of development to trigger cascades of developmental events leading to mature tissues or organs. From our recent studies, it has become clear that these so-called 'developmental genes' also play major roles in adult tissues. How can these proteins play so many roles in such different developmental contexts? To gain insight into this, the group has focussed on one specific neural transcription factor, Otx2, with the goal to identify its different functions during development and post-development, and to determine the molecular bases of these different functions.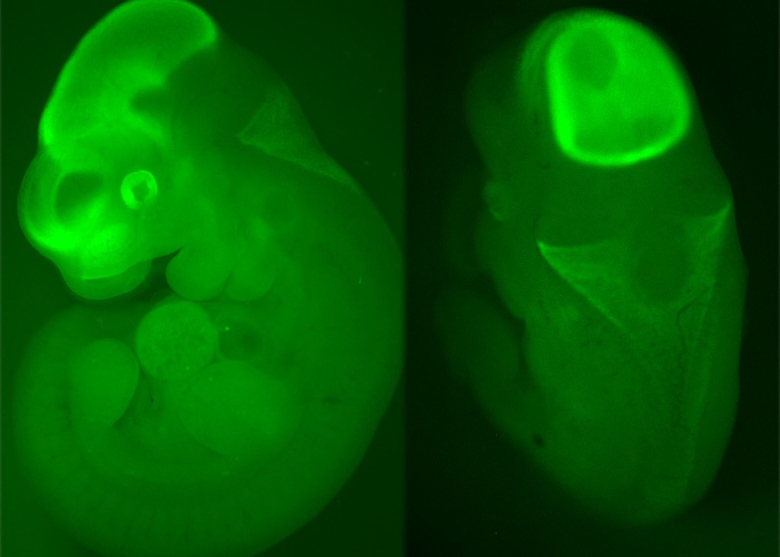 We have developed in-house mouse molecular genetics tools to study real-time activity of the Otx2 gene, to carry out lineage analyses and to achieve temporally controlled gain- or loss-of-function. We combine these animal models with other tools such as mouse driver lines, drug designed tracing viruses, optogenetics, to perform a wide range of studies such as dissection of molecular networks using high-throughput methods, cellular analyses of neuronal identity, migration and projections, physiological activity recording, or behavioural studies in adults.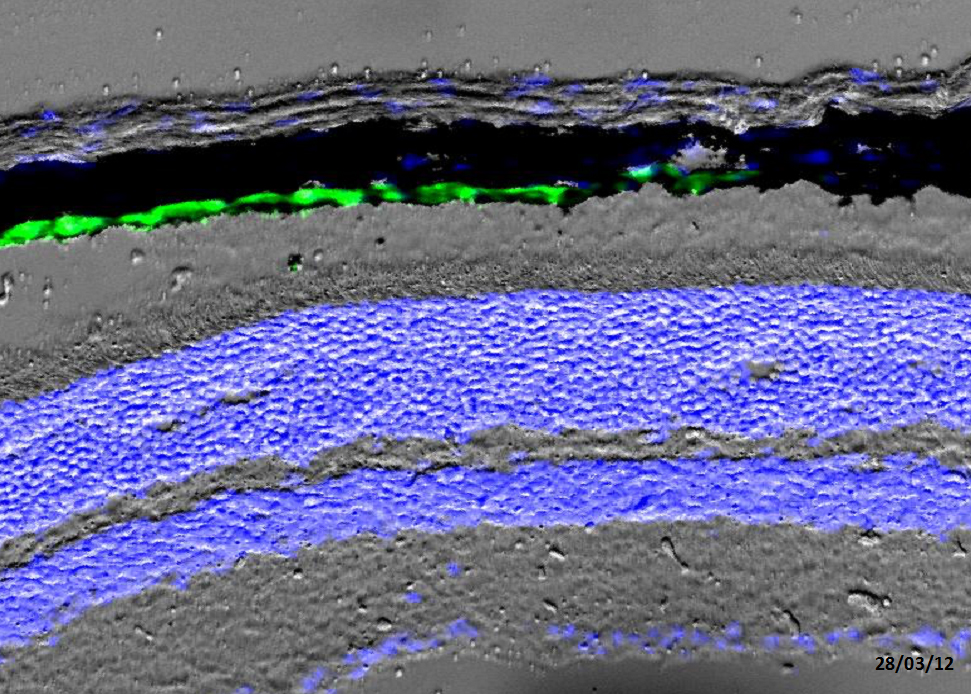 Otx2 neuro-protective function in the retina. We have generated the first genetically controlled model for late onset photoreceptor degeneration (a model for AMD). This model allowed us to demonstrate that in the adult retina, Otx2 is primarily required in the retinal pigment epithelium to ensure long-term maintenance of photoreceptors. We are investigating the nature and the mechanism of this neuro-protective activity.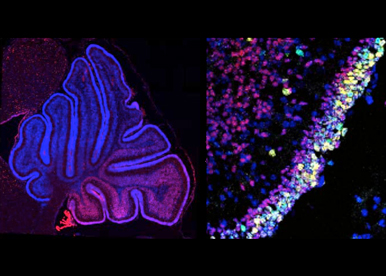 Control of normal and tumoral growth In the cerebellum. We have discovered a major role of Otx2 in the control of normal and tumoral proliferation of granule cell precursors, a finding of importance for understanding medulloblastoma formation. Our research now aims at understanding how early patterning activities involving Otx2 and other genes in the rhombencephalon set the stage for the production of highly proliferative, tumor-prone neural precursors.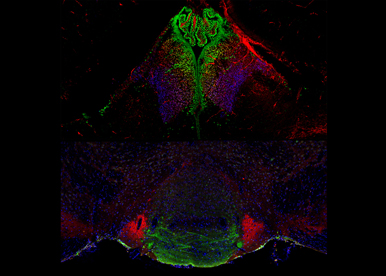 Neurodevelopmental origin of psychiatric diseases. In the habenulo-inderpeduncular system, a major component of positive and negative reward circuits, we show that Otx2 is critical for the edification of a sub-circuit involved in anxiety and depression and for its function in adults. Our research aims at understanding how developmental defects of this circuit translate into susceptibility to psychiatric pathologies.
Researchers
BILLON Nathalie - +33 492076994

D`AUTRéAUX Fabien - +33 492076994

PreDocs
PENSIERI Pasquale - +33 492076494

RAKOTOBE Malalaniaina - +33 492076994

Engineers & Technicians
ALVES Joffrey - +33 492076994

MANTILLERI Annabelle - +33 492076994

Recent publications
El Nagar, S, Chakroun, A, Le Greneur, C, Figarella-Branger, D, Di Meglio, T, Lamonerie, T et al.. Otx2 promotes granule cell precursor proliferation and Shh-dependent medulloblastoma maintenance in vivo. Oncogenesis. 2018;7 (8):60. doi: 10.1038/s41389-018-0070-6. PubMed PMID:30100614 PubMed Central PMC6087714.
Ruiz-Reig, N, Andres, B, Lamonerie, T, Theil, T, Fairén, A, Studer, M et al.. The caudo-ventral pallium is a novel pallial domain expressing Gdf10 and generating Ebf3-positive neurons of the medial amygdala. Brain Struct Funct. 2018;223 (7):3279-3295. doi: 10.1007/s00429-018-1687-0. PubMed PMID:29869132 .
El Nagar, S, Zindy, F, Moens, C, Martin, L, Plassard, D, Roussel, MF et al.. A new genetically engineered mouse model of choroid plexus carcinoma. Biochem. Biophys. Res. Commun. 2018;496 (2):568-574. doi: 10.1016/j.bbrc.2017.11.192. PubMed PMID:29339161 PubMed Central PMC5880203.
Kim, HT, Kim, SJ, Sohn, YI, Paik, SS, Caplette, R, Simonutti, M et al.. Mitochondrial Protection by Exogenous Otx2 in Mouse Retinal Neurons. Cell Rep. 2015;13 (5):990-1002. doi: 10.1016/j.celrep.2015.09.075. PubMed PMID:26565912 .
Fant, B, Samuel, A, Audebert, S, Couzon, A, El Nagar, S, Billon, N et al.. Comprehensive interactome of Otx2 in the adult mouse neural retina. Genesis. 2015;53 (11):685-94. doi: 10.1002/dvg.22903. PubMed PMID:26426291 .
Vendrell, V, López-Hernández, I, Durán Alonso, MB, Feijoo-Redondo, A, Abello, G, Gálvez, H et al.. Otx2 is a target of N-myc and acts as a suppressor of sensory development in the mammalian cochlea. Development. 2015;142 (16):2792-800. doi: 10.1242/dev.122465. PubMed PMID:26160903 .
Mortensen, AH, Schade, V, Lamonerie, T, Camper, SA. Deletion of OTX2 in neural ectoderm delays anterior pituitary development. Hum. Mol. Genet. 2015;24 (4):939-53. doi: 10.1093/hmg/ddu506. PubMed PMID:25315894 PubMed Central PMC4834879.
Ip, CK, Fossat, N, Jones, V, Lamonerie, T, Tam, PP. Head formation: OTX2 regulates Dkk1 and Lhx1 activity in the anterior mesendoderm. Development. 2014;141 (20):3859-67. doi: 10.1242/dev.114900. PubMed PMID:25231759 .
Samuel, A, Housset, M, Fant, B, Lamonerie, T. Otx2 ChIP-seq reveals unique and redundant functions in the mature mouse retina. PLoS ONE. 2014;9 (2):e89110. doi: 10.1371/journal.pone.0089110. PubMed PMID:24558479 PubMed Central PMC3928427.
Fauquier, T, Chatonnet, F, Picou, F, Richard, S, Fossat, N, Aguilera, N et al.. Purkinje cells and Bergmann glia are primary targets of the TRα1 thyroid hormone receptor during mouse cerebellum postnatal development. Development. 2014;141 (1):166-75. doi: 10.1242/dev.103226. PubMed PMID:24346699 .
Housset, M, Samuel, A, Ettaiche, M, Bemelmans, A, Béby, F, Billon, N et al.. Loss of Otx2 in the adult retina disrupts retinal pigment epithelium function, causing photoreceptor degeneration. J. Neurosci. 2013;33 (24):9890-904. doi: 10.1523/JNEUROSCI.1099-13.2013. PubMed PMID:23761884 .
Beby, F, Lamonerie, T. The homeobox gene Otx2 in development and disease. Exp. Eye Res. 2013;111 :9-16. doi: 10.1016/j.exer.2013.03.007. PubMed PMID:23523800 .
Chung, S, Moon, JI, Leung, A, Aldrich, D, Lukianov, S, Kitayama, Y et al.. ES cell-derived renewable and functional midbrain dopaminergic progenitors. Proc. Natl. Acad. Sci. U.S.A. 2011;108 (23):9703-8. doi: 10.1073/pnas.1016443108. PubMed PMID:21606375 PubMed Central PMC3111266.
Béby, F, Housset, M, Fossat, N, Le Greneur, C, Flamant, F, Godement, P et al.. Otx2 gene deletion in adult mouse retina induces rapid RPE dystrophy and slow photoreceptor degeneration. PLoS ONE. 2010;5 (7):e11673. doi: 10.1371/journal.pone.0011673. PubMed PMID:20657788 PubMed Central PMC2908139.
Bertrand, S, Somorjai, I, Garcia-Fernandez, J, Lamonerie, T, Escriva, H. FGFRL1 is a neglected putative actor of the FGF signalling pathway present in all major metazoan phyla. BMC Evol. Biol. 2009;9 :226. doi: 10.1186/1471-2148-9-226. PubMed PMID:19740411 PubMed Central PMC2754479.
Fossat, N, Le Greneur, C, Béby, F, Vincent, S, Godement, P, Chatelain, G et al.. A new GFP-tagged line reveals unexpected Otx2 protein localization in retinal photoreceptors. BMC Dev. Biol. 2007;7 :122. doi: 10.1186/1471-213X-7-122. PubMed PMID:17980036 PubMed Central PMC2204009.
Nishio, S, Kakizawa, T, Chatelain, G, Triqueneaux, G, Brunet, F, Rambaud, J et al.. OTX5 regulates pineal expression of the zebrafish REV-ERB alpha through a new DNA binding site. Mol. Endocrinol. 2008;22 (1):23-32. doi: 10.1210/me.2007-0170. PubMed PMID:17872382 PubMed Central PMC5419633.
Fossat, N, Chatelain, G, Brun, G, Lamonerie, T. Temporal and spatial delineation of mouse Otx2 functions by conditional self-knockout. EMBO Rep. 2006;7 (8):824-30. doi: 10.1038/sj.embor.7400751. PubMed PMID:16845372 PubMed Central PMC1525150.
Chatelain, G, Fossat, N, Brun, G, Lamonerie, T. Molecular dissection reveals decreased activity and not dominant negative effect in human OTX2 mutants. J. Mol. Med. 2006;84 (7):604-15. doi: 10.1007/s00109-006-0048-2. PubMed PMID:16607563 .
Fossat, N, Courtois, V, Chatelain, G, Brun, G, Lamonerie, T. Alternative usage of Otx2 promoters during mouse development. Dev. Dyn. 2005;233 (1):154-60. doi: 10.1002/dvdy.20287. PubMed PMID:15759271 .
Search PubMed
2014 - Prime d'encadrement doctoral et de Recherche - MENRT
2010 - Prime d'excellence scientifique - MENRT
2005 - Prime d'encadrement doctoral et de Recherche - MENRT
2001 - Prime d'encadrement doctoral et de Recherche - MENRT
1993 - Canadian Medical Research Council Fellowship - MRC
1992 - INSERM Post-doctoral fellowship - INSERM
iBV - Institut de Biologie Valrose
"Sciences Naturelles"

Université Nice Sophia Antipolis
Faculté des Sciences
Parc Valrose
06108 Nice cedex 2