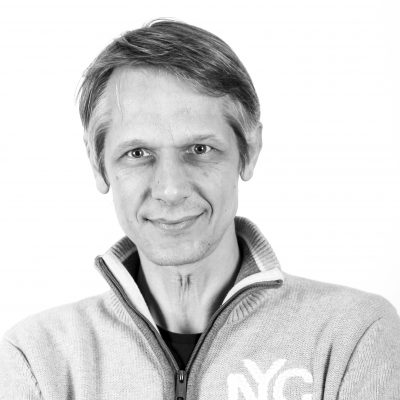 Andreas SCHEDL
Molecular programs controlling development and tissue homeostasis
Main interests
Signals directing self-renewal and differentiation of renal stem cells
Transcriptional control of glomerular podocyte differentiation
Adrenal tissue homeostasis and its links to cancer
Sex-specific differences of non-reproductive organs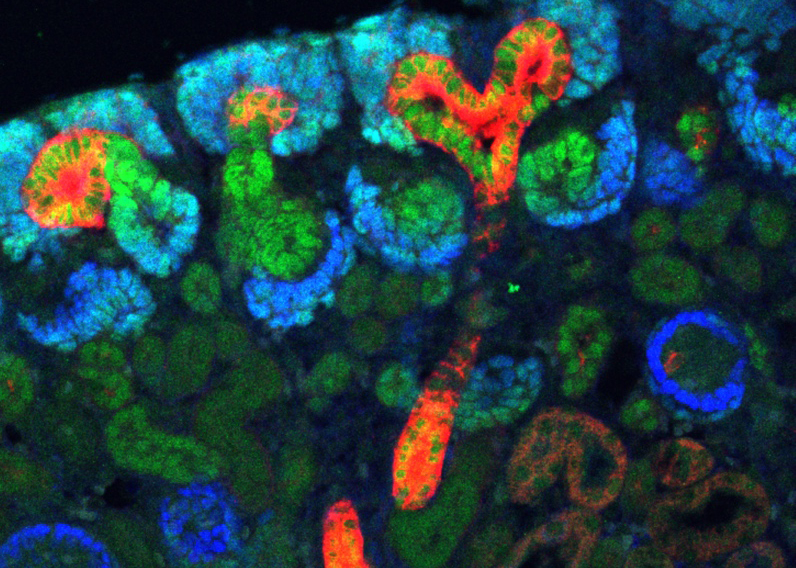 Organ development is a highly complex process that requires the orchestrated action of transcription factors and signalling pathways. Once an organ has formed it needs to be maintained to ensure proper functioning throughout the entire life. To achieve this feat, many organs employ stem cells that can be activated to renew the damaged organ.  Past research has demonstrated that development and tissue maintenance are highly interrelated and molecular programs driving development and differentiation are also triggered when stem cells become activated to replace damaged or lost cells. Focusing on the kidney and adrenal glands, our research program aims at understanding the transcriptional control underlying tissue development, define stem/progenitor cells in the adult organism and determine the signalling pathways that are involved in their maintenance and activation.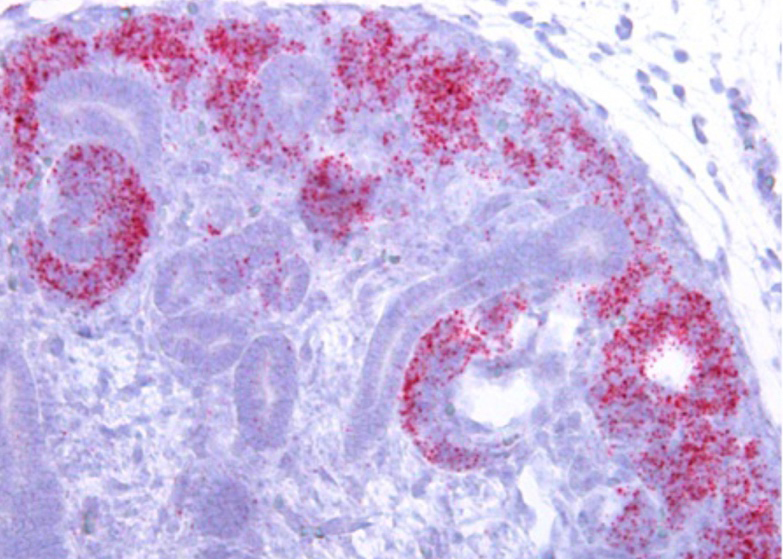 Kidneys are central cardiovascular organs that ensure blood filtration and - together with the adrenals - control blood pressure, pH and electrolyte concentration. Kidney diseases are on the rise and it is expected that as many as 1 in 10 people will suffer from renal disease at some stage during their life. Moreover, defective blood pressure control leads to hypertension, the foremost cause of death worldwide. Given the high incidence of these diseases, new therapeutic approaches are urgently required. A vision for the future is to employ regenerative medicine that would permit the growth of new organs from a patient's own cells. To achieve this goal an in depth knowledge of how kidneys and adrenals form and how they are maintainted is required. In our lab, we are concentrating on three main topics:  1) We address how proliferation of renal stem cells is regulated and identify molecular networks directing their differentiation into functional nephrons. 2) We study podocytes, a key component of the renal filtration barrier, and address how differentiation and maintenance of this unique cell type is achieved. 3) We identify the molecular pathways required for adrenal cortex specification and maintenance. To achieve our goals we employ state of the art genetic (inducible knockouts, CRISPR/Cas9, lineage tracing, organoids) and molecular techniques (ChIP-Seq, scRNA-Seq) and analyze gene function in vitro and in vivo.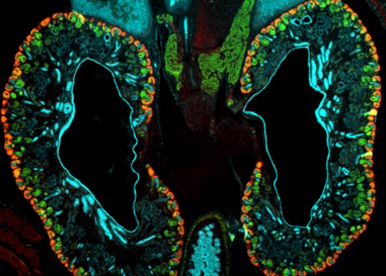 Nephron progenitors represent a developmental stem cell population that fuels nephron formation and determines the total number of nephrons per kidney. Progenitors need to constantly decide between quiescence, proliferation and differentiation, which is achieved through signalling pathways that induce specific transcriptional responses. We are focussing on the transcriptional regulators of the SOXC class, identify their role in these processes and determine the molecular networks they regulate.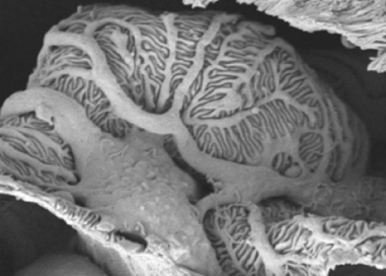 Podocytes are highly specialized cells that form unique cell extensions (footprocesses) required for glomerular filtration.  Podocyte damage is one of the main mechanisms leading to end stage renal failure thus underlining the importance of this cell type. We are interested in identifying the transcriptional program orchestrating podocyte differentiation and maintenance and understand how the unique structure and function of this cell type is acquired and maintained.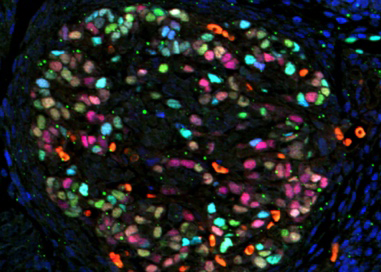 The adult adrenal cortex undergoes constant tissue renewal. To achieve this feat cells proliferate at the outer cortex and migrate in a centripetal fashion changing their differentiation along their differentiation path only to undergo apoptosis at the cortico-medullary boundary. We are studying the molecular pathways that ensure maintenance of organ size and function, and address how disruption of tissue dynamics can lead to adrenal diseases, including cancer.
Researchers
VIDAL Valérie - +33 489150735

Postdocs
LYRAKI Rodanthi - +33 489150735

PreDocs
GRABEK Anaëlle - +33 489150735

KOZLOV Vladimir - +33 489150735

OIKONOMAKOS Ioannis - +33 489150735

Engineers & Technicians
JIAN MOTAMEDI Fariba - +33 489150735

TISON Amèlie - +33

WEERASINGHE ARACHCHIGE Lahiru Chamara - +33 489150735

Recent Publications
Grabek, A, Dolfi, B, Klein, B, Jian-Motamedi, F, Chaboissier, MC, Schedl, A et al.. The Adult Adrenal Cortex Undergoes Rapid Tissue Renewal in a Sex-Specific Manner. Cell Stem Cell. 2019; :. doi: 10.1016/j.stem.2019.04.012. PubMed PMID:31104943 .
Massa, F, Schedl, A. Awakening the Bowman: inhibition of CXCL12 signaling activates parietal epithelial cells. Kidney Int. 2018;94 (6):1042-1044. doi: 10.1016/j.kint.2018.09.011. PubMed PMID:30466560 .
Schedl, A. The author replies. Kidney Int. 2018;94 (4):827. doi: 10.1016/j.kint.2018.06.015. PubMed PMID:30243318 .
Da Silva, F, Massa, F, Motamedi, FJ, Vidal, V, Rocha, AS, Gregoire, EP et al.. Myocardial-specific R-spondin3 drives proliferation of the coronary stems primarily through the Leucine Rich Repeat G Protein coupled receptor LGR4. Dev. Biol. 2018;441 (1):42-51. doi: 10.1016/j.ydbio.2018.05.024. PubMed PMID:29859889 PubMed Central PMC6365680.
Neirijnck, Y, Reginensi, A, Renkema, KY, Massa, F, Kozlov, VM, Dhib, H et al.. Sox11 gene disruption causes congenital anomalies of the kidney and urinary tract (CAKUT). Kidney Int. 2018;93 (5):1142-1153. doi: 10.1016/j.kint.2017.11.026. PubMed PMID:29459093 .
Comai, G, Boutet, A, Tanneberger, K, Massa, F, Rocha, AS, Charlet, A et al.. Genetic and Molecular Insights Into Genotype-Phenotype Relationships in Osteopathia Striata With Cranial Sclerosis (OSCS) Through the Analysis of Novel Mouse Wtx Mutant Alleles. J. Bone Miner. Res. 2018;33 (5):875-887. doi: 10.1002/jbmr.3387. PubMed PMID:29329488 .
Da Silva, F, Rocha, AS, Motamedi, FJ, Massa, F, Basboga, C, Morrison, H et al.. Coronary Artery Formation Is Driven by Localized Expression of R-spondin3. Cell Rep. 2017;20 (8):1745-1754. doi: 10.1016/j.celrep.2017.08.004. PubMed PMID:28834739 .
Moktefi, A, Zhang, SY, Vachin, P, Ory, V, Henique, C, Audard, V et al.. Repression of CMIP transcription by WT1 is relevant to podocyte health. Kidney Int. 2016;90 (6):1298-1311. doi: 10.1016/j.kint.2016.07.016. PubMed PMID:27650733 .
Drelon, C, Berthon, A, Sahut-Barnola, I, Mathieu, M, Dumontet, T, Rodriguez, S et al.. PKA inhibits WNT signalling in adrenal cortex zonation and prevents malignant tumour development. Nat Commun. 2016;7 :12751. doi: 10.1038/ncomms12751. PubMed PMID:27624192 PubMed Central PMC5027289.
da Silva, F, Massa, F, Schedl, A. Identifying Direct Downstream Targets: WT1 ChIP-Seq Analysis. Methods Mol. Biol. 2016;1467 :177-88. doi: 10.1007/978-1-4939-4023-3_15. PubMed PMID:27417969 .
Vidal, V, Sacco, S, Rocha, AS, da Silva, F, Panzolini, C, Dumontet, T et al.. The adrenal capsule is a signaling center controlling cell renewal and zonation through Rspo3. Genes Dev. 2016;30 (12):1389-94. doi: 10.1101/gad.277756.116. PubMed PMID:27313319 PubMed Central PMC4926862.
Rocha, AS, Vidal, V, Mertz, M, Kendall, TJ, Charlet, A, Okamoto, H et al.. The Angiocrine Factor Rspondin3 Is a Key Determinant of Liver Zonation. Cell Rep. 2015;13 (9):1757-64. doi: 10.1016/j.celrep.2015.10.049. PubMed PMID:26655896 .
Kumar, S, Liu, J, Pang, P, Krautzberger, AM, Reginensi, A, Akiyama, H et al.. Sox9 Activation Highlights a Cellular Pathway of Renal Repair in the Acutely Injured Mammalian Kidney. Cell Rep. 2015;12 (8):1325-38. doi: 10.1016/j.celrep.2015.07.034. PubMed PMID:26279573 .
Lefebvre, J, Clarkson, M, Massa, F, Bradford, ST, Charlet, A, Buske, F et al.. Alternatively spliced isoforms of WT1 control podocyte-specific gene expression. Kidney Int. 2015;88 (2):321-31. doi: 10.1038/ki.2015.140. PubMed PMID:25993318 .
Bandiera, R, Sacco, S, Vidal, VP, Chaboissier, MC, Schedl, A. Steroidogenic organ development and homeostasis: A WT1-centric view. Mol. Cell. Endocrinol. 2015;408 :145-55. doi: 10.1016/j.mce.2015.01.009. PubMed PMID:25596547 .
Motamedi, FJ, Badro, DA, Clarkson, M, Lecca, MR, Bradford, ST, Buske, FA et al.. WT1 controls antagonistic FGF and BMP-pSMAD pathways in early renal progenitors. Nat Commun. 2014;5 :4444. doi: 10.1038/ncomms5444. PubMed PMID:25031030 .
Chau, YY, Bandiera, R, Serrels, A, Martínez-Estrada, OM, Qing, W, Lee, M et al.. Visceral and subcutaneous fat have different origins and evidence supports a mesothelial source. Nat. Cell Biol. 2014;16 (4):367-75. doi: 10.1038/ncb2922. PubMed PMID:24609269 PubMed Central PMC4060514.
Bandiera, R, Vidal, VP, Motamedi, FJ, Clarkson, M, Sahut-Barnola, I, von Gise, A et al.. WT1 maintains adrenal-gonadal primordium identity and marks a population of AGP-like progenitors within the adrenal gland. Dev. Cell. 2013;27 (1):5-18. doi: 10.1016/j.devcel.2013.09.003. PubMed PMID:24135228 PubMed Central PMC4032791.
Lavery, R, Chassot, AA, Pauper, E, Gregoire, EP, Klopfenstein, M, de Rooij, DG et al.. Testicular differentiation occurs in absence of R-spondin1 and Sox9 in mouse sex reversals. PLoS Genet. 2012;8 (12):e1003170. doi: 10.1371/journal.pgen.1003170. PubMed PMID:23300469 PubMed Central PMC3531470.
Chassot, AA, Bradford, ST, Auguste, A, Gregoire, EP, Pailhoux, E, de Rooij, DG et al.. WNT4 and RSPO1 together are required for cell proliferation in the early mouse gonad. Development. 2012;139 (23):4461-72. doi: 10.1242/dev.078972. PubMed PMID:23095882 .
Search PubMed
2018 - Equipe labellisée – Ligue contre le Cancer
2012 - Equipe labellisée - ARC
2009 - Award of the French kidney foundation (Prix de la Fondation du Rein)
2009 - Equipe labellisée - FRM
2007 - Member of the Faculty of 1000 Medecine
2006 - Equipe labellisée - FRM
2003 - Avenir - Inserm
2002 - Philippe Leverhulme Prize (UK)
2001 - Young Investigator Programme - EMBO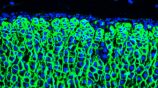 In this study (Cell Stem Cell, May 2019), Andreas Schedl and his team demonstrate both that a striking sex-difference in ...
Read More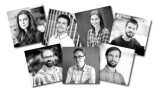 iBV is a member of Université Cote d'Azur (UCA), a cluster of Research and Higher Education on the French Riviera. Each ...
Read More
iBV - Institut de Biologie Valrose
"Centre de Biochimie"
Université Nice Sophia Antipolis
Faculté des Sciences
Parc Valrose
06108 Nice cedex 2