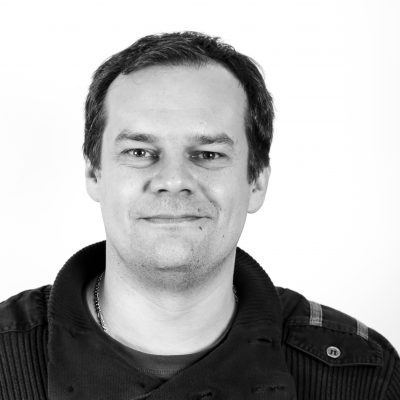 Patrick COLLOMBAT
Diabetes Genetics
Main interests
Diabetes
Regeneration
Pancreas
Mouse development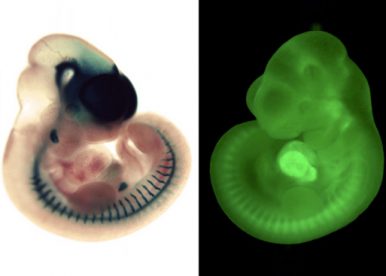 The pancreas can be subdivided into two distinct structures: the exocrine and the endocrine tissues. The exocrine compartment secretes and transports digestive enzymes to the duodenum, whereas the endocrine tissue is organized into small clusters of cells termed islets of Langerhans. The latter contain four main different hormone-secreting cell subtypes: alpha-, beta-, delta-, and PP-cells producing glucagon, insulin, somatostatin, and pancreatic polypeptide (PP), respectively.
Both type I and type II diabetes conditions may ultimately result in pancreatic beta-cell loss and chronic hyperglycemia. While current therapies (insulin supplementation, transplantation) provide a measure of control of the glycemia, treated diabetic patients still display a shortened life expectancy and worsened quality of life as compared to their healthy counterparts.
Our research therefore aims at finding alternative ways to treat type 1 diabetes through the induction of beta-cell regeneration.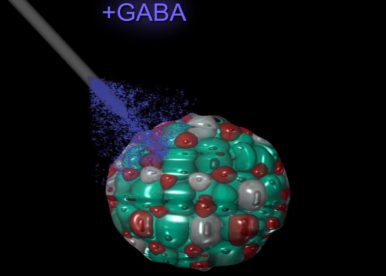 Using the mouse as a model, we have initially focused our research on the Arx and Pax4 transcription factors. Importantly, we demonstrated that :
- both factors control endocrine cell development during pancreas morphogenesis, Arx inducing the alpha-cell lineage, whereas Pax4 promotes the beta- and delta-cell fates.
- the forced expression of the Arx gene in adult beta-cells convert these into cells displaying an alpha- or PP-cell phenotype in vivo.
- the misexpression of Pax4 gene in embryonic (Collombat et al., Cell, 2009) or adult alpha-cells induces their continued regeneration and conversion into beta-like cells, such cells being able to reverse several rounds of chemically-induced diabetes in vivo.
Importantly, through a collaborative screening effort, we recently identified several chemical compounds of interest for diabetes research (Ben-Othman et al, Cell, 2017 - Li et al, Cell, 2017). Among these, GABA (γ-aminobutyric acid - a well know neurotransmitter also produced in the pancreas) was found able to induce alpha-cell-mediated beta-like cell neogenesis. Indeed, when provided to animals rendered diabetics, GABA could literally induce the regeneration of a functional beta-cell mass and thereby reverse the consequences of diabetes (multiple times) in vivo.
We are currently deciphering the genetic cascade underlying GABA signalling and running a pilot clinical trial aiming to determine whether GABA could potentially help diabetic patients.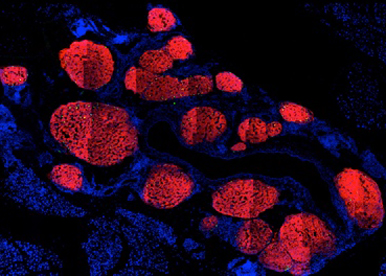 On main focus is to establish ways to induce pancreatic beta-cell regeneration in the context of diabetes research. We have obtained very promising results with the discovery of GABA but we have addional candidates to test. In addition, we work hard in order to understand how GABA works and whether its activities could be potentiated and/or improved.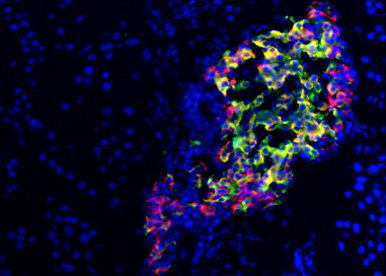 Using different mouse models combined to human islet studies, we are caracterising the consequences of genetic manipulations of a number of genes on type 1 and type 2 diabetes onset. We have several gene candidates that, when manipulated, could be benificial for both types of diabetes.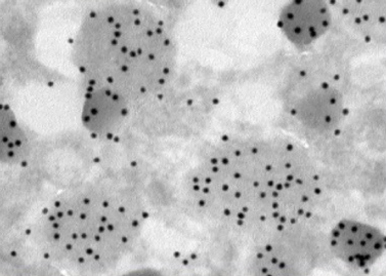 Type 1 diabetes is an autoimmune disease targeting insulin-producing beta-cells. Finding ways to regenerate beta-cells is of crucial interest. However, we also need to consider their putative subsequent ablation by the immune system. We are therefore developing approaches allowing their protection from autoimmune attack.
Postdocs
GARRIDO UTRILLA Anna - +33 489150716

PreDocs
FRIANO Marika Elsa - +33 489150716

Engineers & Technicians
BECAM Jérôme - +33 489150716

Students
AYACHI Chaïma - +33 489150716

Recent publications
Marquina-Sanchez, B, Fortelny, N, Farlik, M, Vieira, A, Collombat, P, Bock, C et al.. Single-cell RNA-seq with spike-in cells enables accurate quantification of cell-specific drug effects in pancreatic islets. Genome Biol. 2020;21 (1):106. doi: 10.1186/s13059-020-02006-2. PubMed PMID:32375897 PubMed Central PMC7201533.
Poeta, L, Padula, A, Attianese, B, Valentino, M, Verrillo, L, Filosa, S et al.. Histone demethylase KDM5C is a SAHA-sensitive central hub at the crossroads of transcriptional axes involved in multiple neurodevelopmental disorders. Hum Mol Genet. 2019;28 (24):4089-4102. doi: 10.1093/hmg/ddz254. PubMed PMID:31691806 PubMed Central PMC7002875.
Napolitano, T, Silvano, S, Vieira, A, Balaji, S, Garrido-Utrilla, A, Friano, ME et al.. Role of ghrelin in pancreatic development and function. Diabetes Obes Metab. 2018;20 Suppl 2 :3-10. doi: 10.1111/dom.13385. PubMed PMID:30230184 .
Balaji, S, Napolitano, T, Silvano, S, Friano, ME, Garrido-Utrilla, A, Atlija, J et al.. Epigenetic Control of Pancreatic Regeneration in Diabetes. Genes (Basel). 2018;9 (9):. doi: 10.3390/genes9090448. PubMed PMID:30205460 PubMed Central PMC6162679.
Vieira, A, Vergoni, B, Courtney, M, Druelle, N, Gjernes, E, Hadzic, B et al.. Neurog3 misexpression unravels mouse pancreatic ductal cell plasticity. PLoS One. 2018;13 (8):e0201536. doi: 10.1371/journal.pone.0201536. PubMed PMID:30092080 PubMed Central PMC6084906.
Druelle, N, Vieira, A, Shabro, A, Courtney, M, Mondin, M, Rekima, S et al.. Ectopic expression of Pax4 in pancreatic δ cells results in β-like cell neogenesis. J Cell Biol. 2017;216 (12):4299-4311. doi: 10.1083/jcb.201704044. PubMed PMID:29025873 PubMed Central PMC5716283.
Vieira, A, Ben-Othman, N, Druelle, N, Courtney, M, Avolio, F, Napolitano, T et al.. [Induction of pancreatic β-like cell regeneration by activation of GABA signaling pathways]. Med Sci (Paris). ;33 (6-7):565-567. doi: 10.1051/medsci/20173306002. PubMed PMID:28990547 .
Napolitano, T, Avolio, F, Vieira, A, Ben-Othman, N, Courtney, M, Gjernes, E et al.. GABA signaling stimulates α-cell-mediated β-like cell neogenesis. Commun Integr Biol. 2017;10 (3):e1300215. doi: 10.1080/19420889.2017.1300215. PubMed PMID:28702122 PubMed Central PMC5501192.
Vieira, A, Druelle, N, Avolio, F, Napolitano, T, Navarro-Sanz, S, Silvano, S et al.. β-Cell Replacement Strategies: The Increasing Need for a "β-Cell Dogma". Front Genet. 2017;8 :75. doi: 10.3389/fgene.2017.00075. PubMed PMID:28634486 PubMed Central PMC5459879.
Vieira, A, Ben-Othman, N, Collombat, P. GABA triggers pancreatic β-like cell neogenesis. Cell Cycle. 2017;16 (8):727-728. doi: 10.1080/15384101.2017.1302212. PubMed PMID:28272980 PubMed Central PMC5405719.
Li, J, Casteels, T, Frogne, T, Ingvorsen, C, Honoré, C, Courtney, M et al.. Artemisinins Target GABAA Receptor Signaling and Impair α Cell Identity. Cell. 2017;168 (1-2):86-100.e15. doi: 10.1016/j.cell.2016.11.010. PubMed PMID:27916275 PubMed Central PMC5236063.
Ben-Othman, N, Vieira, A, Courtney, M, Record, F, Gjernes, E, Avolio, F et al.. Long-Term GABA Administration Induces Alpha Cell-Mediated Beta-like Cell Neogenesis. Cell. 2017;168 (1-2):73-85.e11. doi: 10.1016/j.cell.2016.11.002. PubMed PMID:27916274 .
Ahmad, Z, Rafeeq, M, Collombat, P, Mansouri, A. Pax6 Inactivation in the Adult Pancreas Reveals Ghrelin as Endocrine Cell Maturation Marker. PLoS One. 2015;10 (12):e0144597. doi: 10.1371/journal.pone.0144597. PubMed PMID:26658466 PubMed Central PMC4676685.
Napolitano, T, Avolio, F, Courtney, M, Vieira, A, Druelle, N, Ben-Othman, N et al.. Pax4 acts as a key player in pancreas development and plasticity. Semin Cell Dev Biol. 2015;44 :107-14. doi: 10.1016/j.semcdb.2015.08.013. PubMed PMID:26319183 .
Shamsi, F, Parlato, R, Collombat, P, Mansouri, A. A genetic mouse model for progressive ablation and regeneration of insulin producing beta-cells. Cell Cycle. 2014;13 (24):3948-57. doi: 10.4161/15384101.2014.952176. PubMed PMID:25558832 PubMed Central PMC4614696.
Liao, MC, Diaconu, M, Monecke, S, Collombat, P, Timaeus, C, Kuhlmann, T et al.. Embryonic stem cell-derived neural progenitors as non-tumorigenic source for dopaminergic neurons. World J Stem Cells. 2014;6 (2):248-55. doi: 10.4252/wjsc.v6.i2.248. PubMed PMID:24772251 PubMed Central PMC3999782.
Avolio, F, Pfeifer, A, Courtney, M, Gjernes, E, Ben-Othman, N, Vieira, A et al.. From pancreas morphogenesis to β-cell regeneration. Curr Top Dev Biol. 2013;106 :217-38. doi: 10.1016/B978-0-12-416021-7.00006-7. PubMed PMID:24290351 .
Courtney, M, Gjernes, E, Druelle, N, Ravaud, C, Vieira, A, Ben-Othman, N et al.. The inactivation of Arx in pancreatic α-cells triggers their neogenesis and conversion into functional β-like cells. PLoS Genet. 2013;9 (10):e1003934. doi: 10.1371/journal.pgen.1003934. PubMed PMID:24204325 PubMed Central PMC3814322.
Pfeifer, A, Courtney, M, Ben-Othman, N, Al-Hasani, K, Gjernes, E, Vieira, A et al.. Induction of multiple cycles of pancreatic β-cell replacement. Cell Cycle. 2013;12 (20):3243-4. doi: 10.4161/cc.26357. PubMed PMID:24036539 PubMed Central PMC3885632.
Vieira, A, Druelle, N, Courtney, M, Avolio, F, Ben-Othman, N, Pfeifer, A et al.. [Reprogramming pancreatic cells to β cells]. Med Sci (Paris). ;29 (8-9):749-55. doi: 10.1051/medsci/2013298014. PubMed PMID:24005630 .
Search PubMed
We are looking for highly motivated and enthusiastic scientist to join our research team on a project in the fields of mouse genetics, Diabetes and reprogramming. The major focus of our group is the characterization of the molecular mechanisms of pancreatic cell transdifferentiation using the mouse as a model. The project would focus on a drug inducing insulin-producing cell regeneration.
The position is available and runs for 2.5 years (could be extended).
The successful candidate would hold a relevant PhD degree in Molecular/Cellular/Developmental Biology or a similar field. Interest or previous experience in mouse handling, diabetes is desired. Working language in the group and the department is English and therefore good English communication skills are essential.
We expect high motivation and commitment, a competitive scientific productivity and ability to work under pressure. What we could offer are very well equipped laboratories with up-to date scientific environment, a range of interesting projects and an excellent working and social atmosphere within the group and the department.
The salary is according to the rules of French public service.
Please submit your application electronically (using 'Postdoctoral application' as subject) as a single PDF file consisting of a CV, motivation letter, and desirably marks from the studies, and recommendation letter(s) from previous supervisor(s) to: application.collombat@gmail.com
More information: http://collombat.com
Reference publications:
Ben-Othman et al, Cell, 2017
Li et al, Cell, 2017
Al-Hasani et al, Developmental Cell, 2013
Collombat et al, Cell, 2009
Collombat et al, JCI, 2007
2015 - Prix Auguste Loubatière, Société Francophone du Diabète
2014 - Prix G. B. Morgagni
2013 - Apollinaire Bouchardat Award
2013 - Grand Prix de la Fondation Générale de Santé, Académie des Sciences
2011 - ERC Starting Grant
2009 - Schlumberger Prize
2009 - Avenir Excellency, Inserm
2009 - Career Development Award, JDRF
iBV - Institut de Biologie Valrose
"Centre de Biochimie"
Université Nice Sophia Antipolis
Faculté des Sciences
Parc Valrose
06108 Nice cedex 2