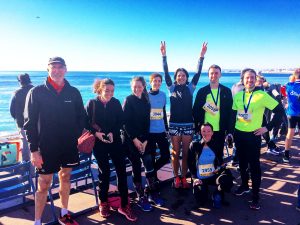 The Prom Classic is probably Nice's most iconic race and with its 8000 finishers, this 20th edition was no exception!
Strategically organized on the first Sunday of January, with runners usually at their fitness peak after Christmas and New Year's Eve celebrations, the Prom Classic 10 km nonetheless is a race made for performance: super flat, usually sunny and with a healthy competitive spirit.
Was there a best way for the iBV running team to start the year, off right?
Morgane, Elodie, Fabienne, Amandine, Nathalie, Clotilde, Pablo, Sébastien, Michele and Stéphane took up the challenge and did their very best on the Promenade des Anglais, encouraged by percussion music and friendly spectators.
They went so fast that Olivier, their photographer and portable locker for the day, had a hard time catching them all in the crowd!
And so fast that Pablo and Sébastien, both under 40 min, Stéphane with less than 45 min and Nathalie under 46 min, propelled the team at the 28th rank on 107 in the « Challenge Entreprise » (calculated with the 4 best race times of each team).
This Sunday was a very positive and energetic start of the year for all iBV runners, so don't hesitate to join the team in 2019!