Created in 1991, the "Fête de la Science" is organized every year by the "Ministère de l'Enseignement Supérieur de la Recherche et de l'Innovation" to allow everyone to discover the world of science and meet the men and women who make science today. For its 30th edition, the 2021 theme was "Eureka! The emotion of discovery".
After a one-year interruption, the " fête de la science" was back in the parks and gardens. Once again this year and for several years, staff from the Valrose Biology Institute participated with enthusiasm in this festive event. For the 30th edition, iBV members have been involved in the preparation and/or will be present on several events that have been held from 1 to 17 October in the "Alpes Maritimes" department.
On Friday, October 1st in "Village des Sciences" of Villeneuve-Loubet and on Saturday October 9th and Sunday 10th in "Village des Sciences, Jardin Albert 1er" in Nice, five enthusiastic iBV PhD students presented the exhibition "Les vaccins à quoi ça sert/ What are vaccines for?" created by Bernard Binetruy, Inserm researcher (Service Communication Inserm PACA-Corse).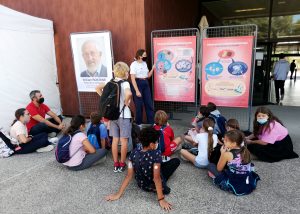 In addition, on Saturday October 9th and Sunday 10th in Nice, two workshops were organized by iBV members, the first entitled « Notre alimentation… L'homme est ce qu'il mange! /Our food… human is what he eats!" and the second one "Ces modèles qui nous ressemblent/ These biological models that look like us". On this occasion, children and adults learnt everything about how to eat well and observed at the microscope, sea urchin embryos, drosophila (vinegar flies) and C. elegans nematodes (microscopic worms).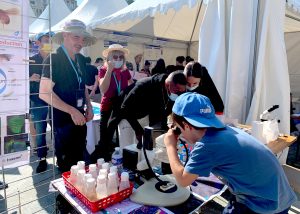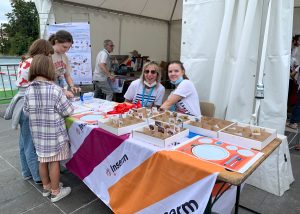 This 30th edition was very successful and the stands attracted a large number of visitors. 5000 in Nice!
Thanks to all who organized and prepared this event as well as to those who were present on the stands.
See you next year!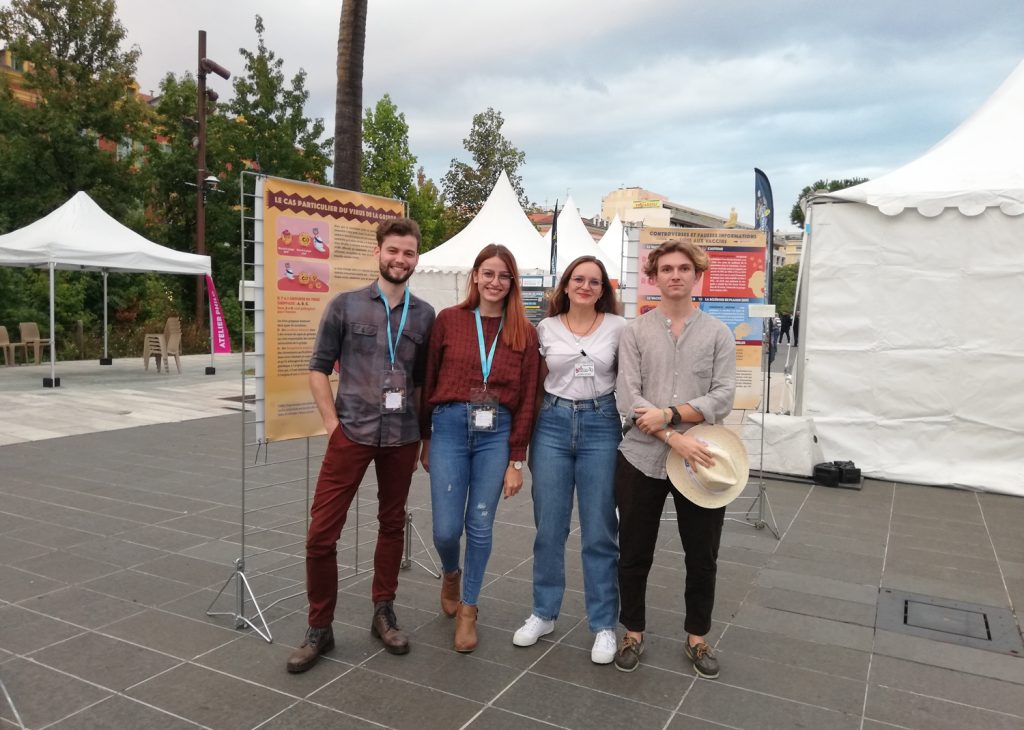 iBV participants
Organizing Team : Michel Bidet, Stéphanie Bogliolo, Nadine Gautier, Annie Ladoux, Laurence Lavenant
Village of Sciences – Villeneuve-Loubet : Camille Bérenguier, Michel Bidet, Nicolas Roby
Village of Sciences – Nice : Chaïma Ayachi, Abdul-Basith Tanari, Pierre-Louis Batrow, Michel Bidet, Charlotte Bouleau, Christian Braendle, Aline Chessel, Aurélie Farnet, Niels Fjerdingstad, Nadine Gautier, Annie Ladoux, Laurence Lavenant, Laure Mignerot-Fuste, Asma Sandjak, Zoé Servant.
Côte d'Azur University students: Louane Gill and Margaux Badaire-Kegel