1st Computational & Augmented Surgery Conference
Event Navigation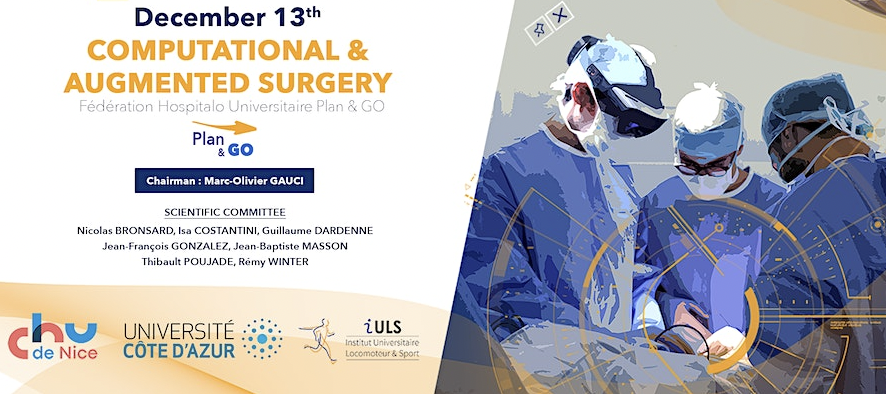 I am pleased to announce you the 1st Computational & Augmented Surgery Conference that will be held in Nice (Amphithéâtre Le Galet, Hôpital Pasteur 2, CHU de Nice) on December 13, 2023.
The Hospital-University Federation – FHU Plan&GO has the ambition of creating an outstanding event and providing you the unique opportunity to meet and share ideas with key players in future surgery and broaden your collaborations in the French Riviera and beyond.
The event will be the occasion for discussing the latest advances in the developments of imaging analysis, AI, modelization, biomechanics, and educational and evaluation platforms but also augmented surgery with mixed reality, 3D-printing, collaborative cloud platform or robot and their applications.
Together, we will discuss and imagine future directions during interactive presentations and moments for exchanges.
Don't hesitate to sign up to attend the event on site, so that we can welcome you in the best possible conditions.
All the best wishes and a warm welcome from the sunny and welcoming Nice in the wonderful French Riviera!
Marc-Olivier Gauci, MD, PhD
Register now : https://computationalandaugmentedsurgery.eventbrite.com