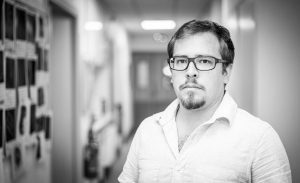 The recently described plasticity of differentiated neurons brings tremendous hope to the field of regenerative medicine, which aims to restore cells damaged by trauma or degenerative diseases. During his PhD work in the group of Michèle Studer at iBV, Torsten Felske ectopically overexpressed a combination of nuclear factors to efficiently reprogram mouse post-natal cortical neurons from one class to a different neuronal subtype or lineage, able to project axons to the spinal cord, a connection that is lost in motor neuron diseases, such as Amyotrophic Lateral Sclerosis or Lou Gehrig's disease.
Since the beginning of his university studies, Torsten Felske has been a dedicated traveler around Europe. From Tübingen and Frankfurt in the first years, he moved to Helsinki as an ERASMUS student, before heading South to Nice, drawn by the opening of the Signalife Labex PhD program and the very innovative field of neuron reprogramming in the Studer's lab. And the beautiful sea and beaches of the Côte d'Azur were also strongly appealing! Torsten defended his Thesis last March and will spend a few more months in the lab to complete his last experiments and publish his manuscript.
What part of the research work do you prefer?
I like to be creative and science is a perfect playground for that! It is also very gratifying to realize that our work contributes to general knowledge in the neuron reprograming field. Hopefully, it will make a difference to people health in the long run.
What were your other areas of interests, as a German PhD student in France?
Together with friends and colleagues, I took part in the organization of CareerExpo2017, an event that gives students and employers the opportunity to meet and discuss potential professional collaborations. It was actually a lot of fun and the event was very well received by the community. I was also part of a group of students that organized political discussions about various topics and had its crowning final in Strasbourg, when we attended the European Youth Event. Finally, cycling in the mountains and alongside the sea shore has been one of my favorite hobbies outside the lab!
What are your plans for the future?
My dream job? Becoming a politician! But before this happens, I will probably head towards research in the private sector or be a patent attorney.