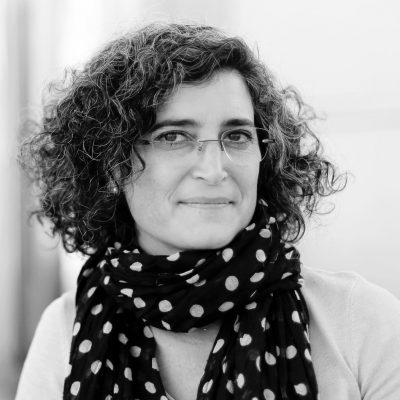 Elvire GOUZE
Development of biotherapies for skeletal dysplasia
Main interests
development of innovative biotherapies for skeletal dysplasia
unmet medical need
interests in rare genetic bone diseases with main focus on achondroplasia and type II collagenopathies
choice of the most appropriate strategy depending on the disease (protein, gene or stem cell therapy)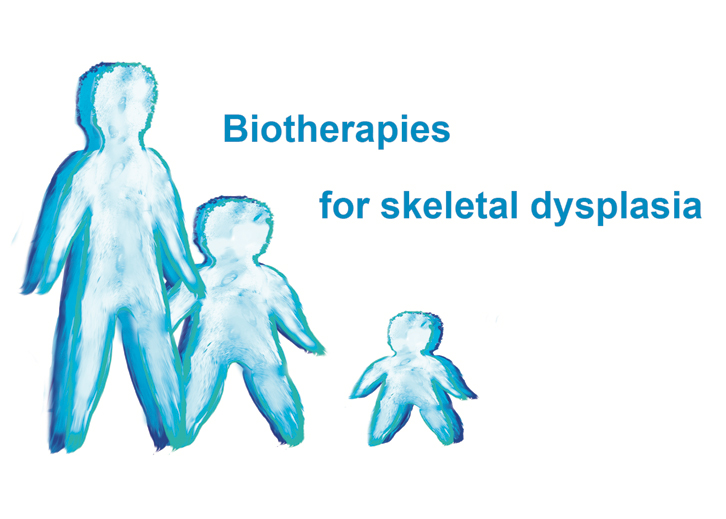 Our goals are to develop innovative therapies for skeletal dysplasia.
Skeletal dysplasia represent a heterogeneous group of rare disorders comprising a large number of pathologies associated with orthopedic complications, dwarfism or gigantism. More than 350 disorders have been identified. They are caused by genetic mutations that modify or inhibit the development of cartilages or bones. These mutations can for example affect matrix proteins, transcription factors, signal transducers, or intracellular binding proteins. Diagnosis is mainly based on clinical and radiographic observations, and confirmed by molecular testing, allowing also for the classification of the different types of known skeletal dysplasia.
Our team is currently focusing on achondroplasia and SEDc (spondyloepiphyseal dysplasia congenita), a type II collagenopathy.
To develop these innovative therapies, we have a 4-steps strategy. Depending on the disease, we develop recombinant protein approaches a well as gene and cell therapies.
1. The therapeutic approach is first evaluated in vitro. This step also allows us to decipher the mechanism of action.
2. The experimental proof-of-concept is demonstrated using mouse models recapitulating the human disease. Potential side effects are carefully evaluated at this stage. This step allows to perform the translational development of the therapeutic strategy.
3. Treatment effects on whole body are studied in detail. These fundamental aspects are key in understanding the non-osseous symptoms of these pathologies. These aspects are often neglected and not well known.
4. Data are then used to complete the preclinical development and conduct clinical trials. This step is done in close relationship with the patient associations.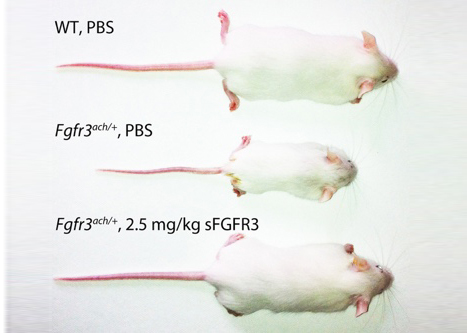 We are first focusing on the preclinical development of a biotherapy for achondroplasia in close collaboration with Therachon (www.therachon.com). We pay a particular emphasis on understanding treatment effects on the metabolic tissues. This aspect of the project requires first the fundamental understanding of the role of the FGFR3 mutation on the metabolic deregulations observed in achondroplasia patients. We are developing a recombinant protein approach using Fgfr3ach/+ mice.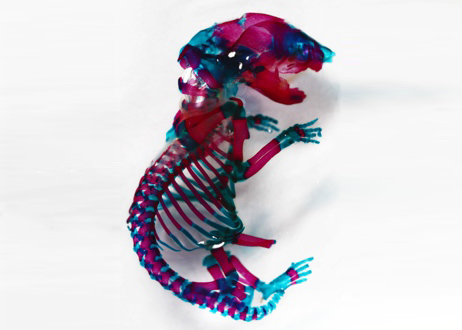 Our second project aims at developing innovative therapies for type II collagenopathies, a group of skeletal dysplasia that result from heterozygous mutations in the type II collagen gene (COL2A1). This project focuses on SEDc, the most common non-lethal type II collagenopathy. Several mutations in the COL2A1 gene have been identified in SEDc patients and are directly responsible for the clinical features. We are developing an ex vivo gene therapy approach using SEDc mice.
2015 - 35 Millions USD raised by Therachon to fight Dwarfism
2006 - Initiative Post-Doc, Ministère délégué à l'Enseignement Supérieur et à la Recherche
2003 - Poster of Distinction Award, Brigham and Women's Hospital Research Council, 2nd place, Harvard Medical School
2002 - C. Gordon Van Arman Award, Inflammation Research Association, 1st place
1998 - Michel and Lydie Wittner Foundation Research Award, Fondation de France, College of Medicine, University of Henri Poincaré-Nancy I, 1st place
It is now a tradition and highlight at the Université Cote d'Azur (UCA): the Annual Award Ceremony to recognize awardees ...
Read More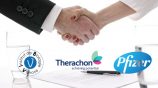 The 'institut de Biologie Valrose' (iBV) congratulates Elvire Gouze, Group Leader at iBV (http://ibv.unice.fr/research-team/gouze/), for her visionary and successful project ...
Read More
iBV - Institut de Biologie Valrose
"Sciences Naturelles"

Université Nice Sophia Antipolis
Faculté des Sciences
Parc Valrose
06108 Nice cedex 2